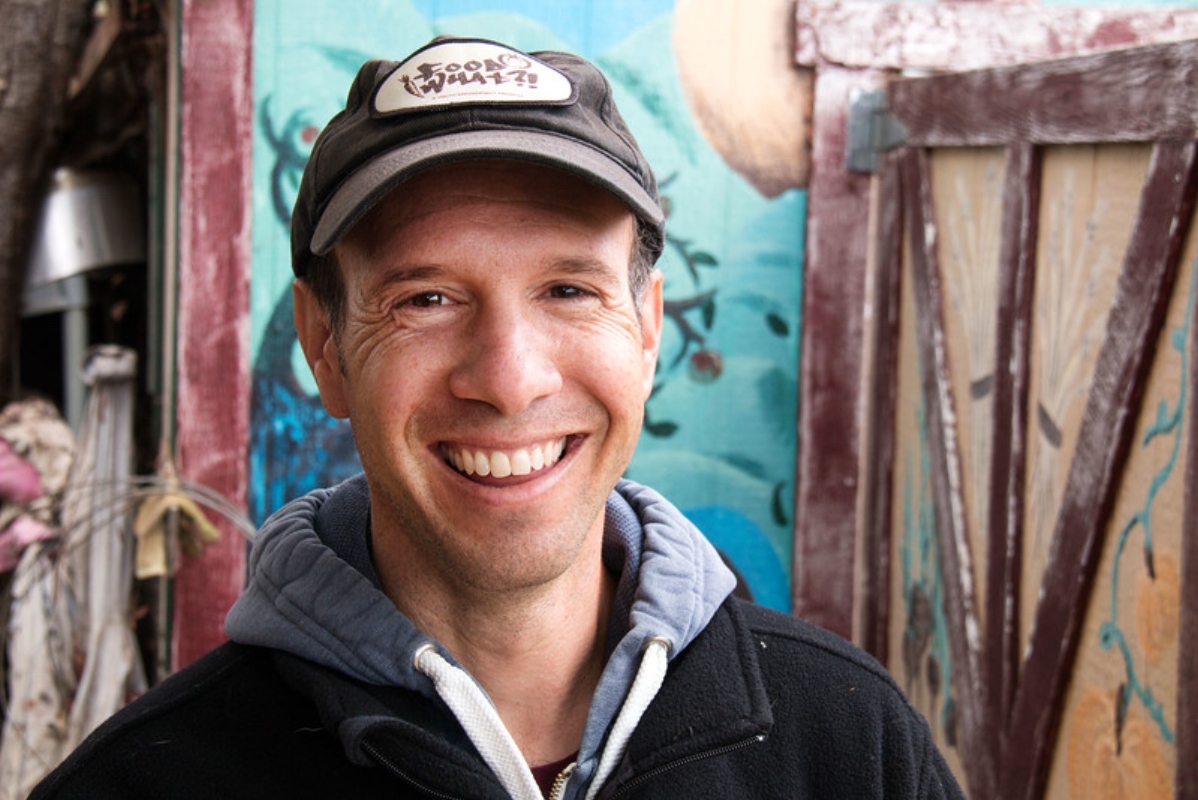 Doron Comerchero is the Founder and Director of FoodWhat. Doron spent his 20's in the South Bronx as a community organizer for GreenThumb, NYC's community gardening program, supporting community efforts to protect local gardens that the Guiliani administration was seeking to destroy. Rich soil called, and he found himself having transitioned from city life to living in a tent on a beautiful piece of farmland in Santa Cruz as an apprentice at the UCSC Farm and Garden. Back East for one season farming full time at 50-acre Food Bank Farm, he returned to Cali in 2007 to launch FoodWhat. Doron is also in long-time service on the council that nourishes Rooted in Community, a national grassroots network of programs like FoodWhat that empowers young people from historically excluded communities to take leadership through food, justice, and local economic development. Ten years later, Doron is driven to create safe spaces for youth to grow and cultivate their power and resiliency while continuing to lead the organization with heart, laughter, and intention.
Email: doron@foodwhat.org.
Development Director Kayla Kumar has dedicated her entire career to organizing people around the love, resilience and possibility found within community. Prior to joining FoodWhat, Kayla worked with youth in environments ranging from music classrooms, basketball courts and juvenile halls. For the last eight years, she has successfully led development within liberation-focused grassroots organizations. Kayla believes the purpose of her work is to contribute to the wellbeing and liberation of marginalized communities. In her role at FoodWhat, Kayla supports our programming by cultivating community partnerships that are impactful, down-to-earth, deeply heartfelt and all about the youth we serve. Kayla has worked on projects related to restorative justice, substance abuse recovery, economic policy research, and program evaluation. She holds a Master's Degree in Economics from San Jose State University. She also serves on the Board of Santa Cruz Community Ventures.
Email: kayla@foodwhat.org
Programs and Operations Coordinator Moriah Barrow comes to FoodWhat from Raleigh, North Carolina. An activist and proud defender of social justice, Moriah feels right at home sharing these passions with and learning from the youth and staff at FoodWhat. She was drawn to FoodWhat particularly for their distinct youth-centered approach to programming, which she has only grown more fond of since stepping into this position. In her role, Moriah provides versatile and robust support to her team members in virtually all aspects of the organization. Moriah received her Masters Degree in Human Rights from Central European University in Budapest, Hungary in June 2017, and looks forward to broadening her worldview and sharing her international lens here in Santa Cruz County.
Email: partnership@foodwhat.org
Programs Manager Irene Juarez O'Connell is a mentor, educator, and advocate for youth and young people in Santa Cruz County. Originally from Los Angeles, Irene came to Santa Cruz to study Public Art and Latin American & Latino Studies at UCSC. Having previously served the community in mentorship roles in local high schools and in the Santa Cruz Juvenile Detention Center, Irene joined FoodWhat in 2016 with experience in community organizing around youth violence prevention. She is passionate about the intersections where youth expression and creativity can meet empowerment for lasting, impactful change for their lives and their communities. Irene is excited to work with young leaders and have her hands in the soil! Irene has received the NEXTie for Artist of the Year 2017 Award and the Eduardo Carrillo Healing the Community with Art Award that same year.
Email: irene@foodwhat.org
Finance Manager Puiyee Tse comes to FoodWhat with over 20 years of experience in profit and nonprofit sector in Santa Cruz County. She oversees the accounting function from accounts payable to year end audit. Born and raised in Hong Kong, Puiyee earned a degree in Liberal Art at the National Taiwan University, and an Associate of Science degree in Accounting at Mission College, Santa Clara. When she's not crunching numbers, she likes to travel around the world. Puiyee enjoys her work and often shares how honored she is to be with what she considers such an amazing organization.
Email: finance@foodwhat.org
Programs Manager Lupita Sanchez joins our team as a local community activist, trauma-informed youth advocate and mentor dedicated to radical education. Born and raised in Watsonville, Lupita has 8+ years working closely with community organizers. She has a deep and personal connection to those she serves. Lupita's capacity to create and inspire change lends itself well to this work (so does her contagious laughter). Her background as a high school Ethnic Studies teacher, certified counselor for youth survivors, and community organizer informs her ability to support youth in a unique way. She has a passion for applied theater, grassroots organizing and transforming communities through youth leadership, creativity, and collective action. She holds a BA in Education and Theater Arts from UCSC and Auckland University, NZ.
Email: lupita@foodwhat.org
Farm and Culinary Manager David Antonio Robles is a farmer, activist, and artist who loves to use his skills to cultivate community and resilience among youth. As the grandchild of migrant farmworkers, David's farming roots run deep. He recognizes the power that food has to connect the individual to their culture, their community, and their environment and hopes to guide young people through that process. During his time as an undergrad, David started working for the Center for Agroecology and Sustainable Food Systems (CASFS) where he began to understand the responsibilities of land stewardship and its connection with the health and resilience of his community. David comes to FoodWhat from the CASFS Apprenticeship in Ecological Horticulture as a 2nd year in the Farm Garden. He attended UCSC where he earned his Bachelor's Degree in History with a concentration on Social Movements in the Americas.
Email: david@foodwhat.org
Natasha & Abi
foodwhat event planners
Tanihya & Celosia
FoodWhat Farm Interns
Hannah Nichols & Val Medina